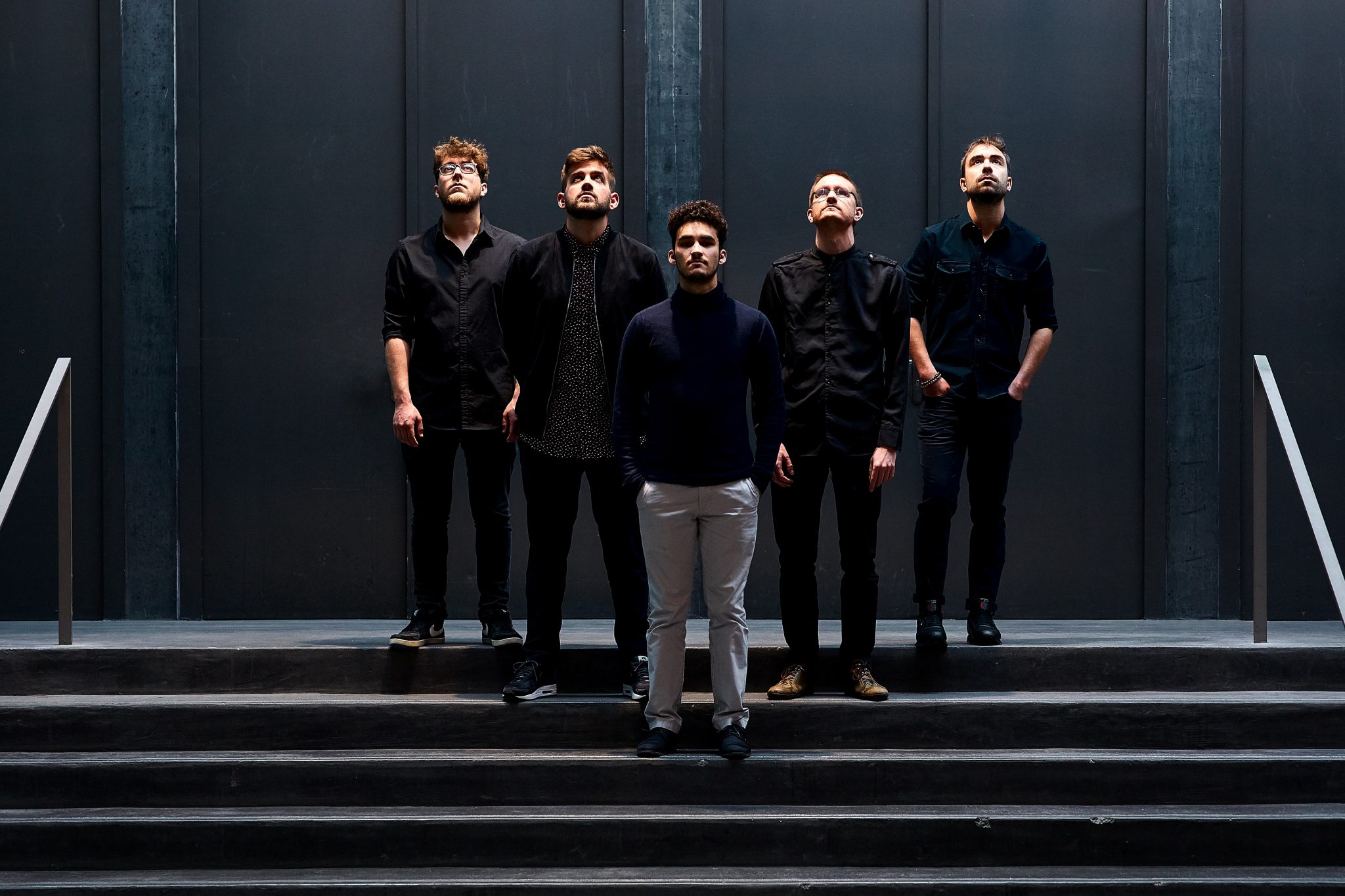 Shems Bendali 5tet was born in 2016 out of young trumpet player Shems Bendali's desire to explore this classic ensemble that is the jazz quintet. Marked by figures ranging from Clifford Brown to Ambrose Akinmusire, and off course Miles Davis, this instrumentation allows the flexibility of a small ensemble with a rich variety of timbres. The young band already shows a great cohesion and singular sound, qualities that were distinguished at the prestigious ZKB Jazzpreis in Zurich.
Rooted in an open and adventurous jazz tradition, yet pervious to today's musical genres without mimicking them, the quintet's music focuses on the flow of energy in its many forms : sometimes gentle, sometimes harsh, always embodied. Shems Bendali's compositions are clear, lyrical, sharp, like sparks that light up the interplay and allow each group member to feed its musical heath.
Shems Benali 5tet's first release is a milestone for the project, presenting intense and touching versions of the first compositions written for the group, with the inspired contribution of vibraphonist Jean-Lou Treboux on two tracks. It marks also the start of a new chapter, with a release tour that includes venues and festivals such as Cully Jazz Festival, Moods (Zurich), Jazz à Vienne, Cheltenham Jazz Festival, BeJazz (Bern),… Each concert being the occasion to revisit a repertoire challenging by its possibilities.
In August 2019, the band won the Grand Prix of Avignon Jazz Festival competition, allowing them to record a second album at the famous Studio de la Buissone.
shems bendali
arthur donnot
andrew audiger
yves marcotte
noé tavelli
Trumpet 
Tenor sax
Piano
Upright bass
Drums
15.03.2019 – EJMA, Lausanne (CH)
22.03.2019 – Be Jazz, Bern (CH)
30.03.2019 – Caveau Lancy Marginac, Genève (CH)
04.04.2019 – Moods, Zurich (CH)
10.04.2019 – Cully Jazz Festival (Main Stage) (CH)
05.05.2019 – Cheltenham Jazz Festival, (UK)
23.05.2019 – Espace 032, Neuchâtel (CH)
24.05.2019 – Salle Antoine – Verchère, Meyrin (CH)
05.07.2019 – Jazz à Vienne (FR)
27.07.2019 – Garden Party Lausanne (CH)
01.08.2019 – Avignon Jazz Festival Tremplin (FR) (WINNER)
12.10.2019 – L'Echandole – NovaJazz, Yverdon (CH)
01.11.2019 – Jazz Onze Plus Festival, Lausanne (CH)
04.11.2019 – Jazz in Baden, Baden (CH)
08.01.2020 – Centre Culturel Suisse, Paris (FR)
09.01.2020 – Kansas Smitty's, Londres (UK)
11.01.2020 – Jazz Aux Carrés, Annecy (FR)
10.04.2020 – Chorus, Lausanne (CH) 
18.04.2020 – 38 Riv, Paris (FR)
18.11.2020 –  Jazz Club de Quimper (France)
20.01.2021 – Club HSLU, Lucerne (Switzerland)
22.01.2021 – Le Singe, Biel/Bienne (Switzerland)
27.01.2021 – Wadin Jazz, Wädenswill (Switzerland)
30.01.2021 – JazzChur, Chur (Switzerland)
02.02.2021 – Altes Spital Tuesday Jazz, Solothurn (Switzerland)
04.02.2020 – Be Jazz, Bern (Switzerland)
10.02.2021 – RTS Stuido 15 Live, Lausanne (Switzerland)
14.02.2021 – Moods, Zurich (Switzerland)
16.02.2021 – Bird's Eye, Basel (Switzerland)
"Even if he's only 23 and released just on album as a leader, Shems Bendali deserves recognition. Recorded with his quintet, Choukheads is a great surprise of the year 2019. It highlights un bold and inventive trumpeter and an skilled composer, inspired by a ruthless hard bop and firmly embedded in our times."
"A musicality conscious of its roots but never being stifled by it. A music which resonates within its own time."
Arnaud Robert – Le Temps
"Their maturity comes as a pleasant surprise within the first minutes of listening."
Pascal Derathé – Jazz Rhône-Alpes
« […] an individual and collective perfection. »
Franck Bergerot – Jazz Magazine